At the microscopic level of human cells, Prevail MAX enhances nutrient absorption and supports healthy cell performance – a nutritional breakthrough for your cells. When you use Prevail MAX, you will feel more energy and an ability to focus like never before. Take four sprays up tp three times per day and see just how good you can feel!
Valentus Prevail MAX is a nutritional breakthrough that delivers a rapid increase of internal blood cell pressure to speed absorption, enabling the body to take maximum advantage of the nutrients in foods and supplements.
The nano-sized electrolytes are small enough to penetrate your cell membranes, to bind with your cells, and to be carried wherever they are needed in the body.
Complementing product for any supplement you are taking.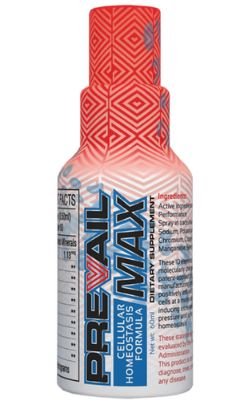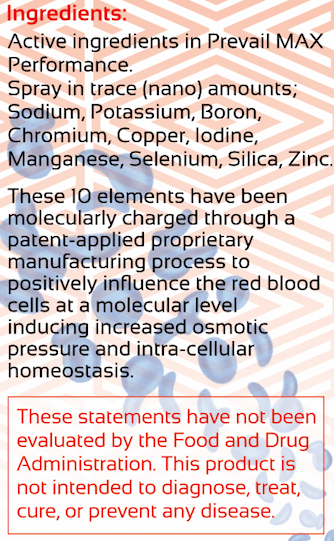 A NUTRITIONAL BREAKTHROUGH FOR YOUR CELLS!
One of the most important features of a healthy red blood cell is its ability to maintain maximum hydration, or what is also referred to as osmotic pressure. Under a microscope, this essential characteristic is similar to a fully inflated basketball – the cell becomes round and tight. Electromagnetically charging the cells enhances their osmotic pressure, thus inducing rapid cellular hydration and the ability to carry oxygen, vitamins, and minerals into the cells.
Prevail MAX is a supercharged, proprietary blend of nano-sized (trace) electrolytes that charge your cells, reinflate them, and space them apart so they can float freely through your body.
Once they are apart and have regained a healthy shape and fluidity, the cells can absorb nutrients and eliminate toxins at a much higher capacity.
Both nutrients and oxygen are delivered inside your cells far better than before.
Quick to use and tastes great (with a hint of mint for fresh breath!)
Takes only seconds to administer orally, four sprays just 3x per day!
Will see results show up in your life within only minutes and lasts for hours!
Patent-pending technology unlike any other in the world.
Today's average consumer have what doctors call "sticky blood" that comes from everyday occurrences:
Eating fatty foods, poor eating habits, increased sugar consumption, certain medications, carbon monoxide, excessive caffeine, alcohol, and stress cause red blood cells to stick together and "stack up" like a roll of coins, preventing nutrients from being properly absorbed.
Valentus has a ground-breaking technology with Prevail Max so revolutionary that the results are visible under a microscope in just minutes!
WHAT IS LIVE BLOOD CELL ANALYSIS?
The live blood cell analysis is not a diagnostic test, it is an educational tool that we use to show the client what the blood looks like under the microscope.
The blood can be evaluated functionally to assess overall cell health, hydration status, liver functioning and other health markers. Your blood is the mechanism that transports nutrients to the cells and carries waste products to the liver to be broken down and eliminated.
Live Blood Analysis is a simple procedure for obtaining a quick and accurate assessment of your blood. Darkfield microscopy now allows us to observe multiple vitamin and mineral deficiencies, toxicity, and tendencies toward allergic reaction, excess fat circulation, liver weakness and hydration status.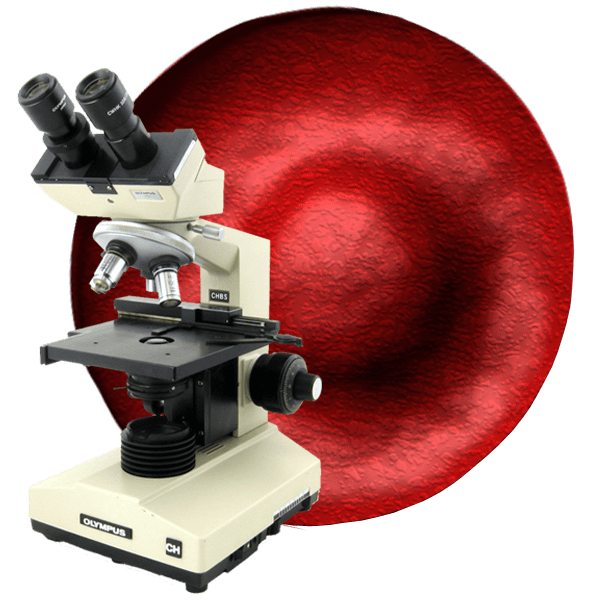 WHAT DOES THE PROCESS ENTAIL?
Live blood cell analysis is a procedure that is consists of placing a drop of blood from your fingertip on a microscope slide under a glass cover slip to keep it from drying out.
The blood is magnified by 30,000 times and the slide is viewed at this high magnification with a dark-field microscope that forwards the image to television monitor where both practitioner and client can then see the blood cells.
Live Blood Cell Analysis allows a professional the ability to evaluate and document your condition and then the results are used as a basis for prescribing supplements to correct any imbalances or deficiencies.
Please Note: This is a 3rd party generic video. The statements made is this video have not been evaluated by the Food and Drug Administration.
Order Prevail Max Spray
Clicking "Buy Now" will take you directly to our Valentus order page PLEASE NOTE: All prices and orders are in US dollars
Basic PACK
1 Bottle of Prevail Max

1 Mth Supply
STARTER PACK
3 Bottles of Prevail Max

3 Mths Supply

Save 25%
ADVANCED PACK
Biggest Savings
6 Bottles of Prevail Max

6 Mths Supply 

Save 35%
We Stand Behind Our Products
Valentus takes great pride in the quality of their products. If for any reason you do not absolutely LOVE the products, ask about our 90 day first product purchase guarantee simply send back any unopened resalable boxes, email support@valentus.com if you would like more information. The Valentus Support Staff are friendly and knowledgeable and trained to make sure you are 100% satisfied!
*Disclaimer: Health benefits and weight loss results will vary from person to person and are not guaranteed. The statements made on this website have not been evaluated by the U.S. Food & Drug Administration. These products are not intended to diagnose, cure or prevent any disease. The information provided by this website is not a substitute for a face-to-face consultation with your healthcare professional and should not be construed as individual medical advice. Please consult your doctor before beginning use of any supplement. The Weight Loss Coffee website is owned & operated by an Independent Partner of Valentus.