Valentus Thermoroast Dark Roast Coffee
It's no secret that losing weight is no easy task, which is why Millions of people struggle with it every day. We want to make it a bit easier, that's why we created ThermoRoast Dark Roast Coffee, which is designed to help take your weight management to the next level !
(results may vary person to person)
ONLY AVAILABLE FOR PURCHASE in USA and CANADA
Formulated with natural appetite suppressants, feel-good ingredients, and detox components, ThermoRoast Coffee is the perfect addition to your weight loss management program!
May Increase Energy
May Improve Mood
May help Crush Cravings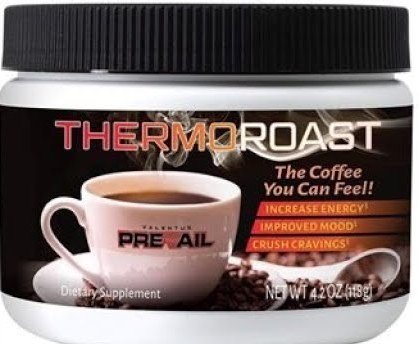 Espresso Coffee, Chicory Root Fiber, Caffeine, B-Phenylethylamine (ICL-PEA), L-Theanine, Green Tea Extract (as VASO6 tm), Alpha-GPC (Glycerl Phosphorly Choline), p-Synephrine HCL, Methylliberine (as Dynamine tm), DL-Phenylalanine, Full Spectrum Cocoa Powder (5-HTP), Chromium Polynicotinate.
Order Your Thermoroast Coffee
Clicking "Buy Now" will take you directly to our Valentus order page PLEASE NOTE: All prices and orders are in US dollars
Basic PACK
1 Tub of Thermoroast

30 Serves
STARTER PACK
3 Tubs of Thermoroast

90 Serves

Save 25%
ADVANCED PACK
Biggest Savings
6 Tubs of Thermoroast

180 Serves (one drink per day or 90 days at two drinks per day)

Save 35%
We Stand Behind Our Products
Valentus takes great pride in the quality of their products. If for any reason you do not absolutely LOVE the products, ask about our 90 day first product purchase guarantee simply send back any unopened resalable boxes, email support@valentus.com if you would like more information. The Valentus Support Staff are friendly and knowledgeable and trained to make sure you are 100% satisfied!
*Disclaimer: Health benefits and weight loss results will vary from person to person and are not guaranteed. The statements made on this website have not been evaluated by the U.S. Food & Drug Administration. These products are not intended to diagnose, cure or prevent any disease. The information provided by this website is not a substitute for a face-to-face consultation with your healthcare professional and should not be construed as individual medical advice. Please consult your doctor before beginning use of any supplement. The Weight Loss Coffee website is owned & operated by an Independent Partner of Valentus.